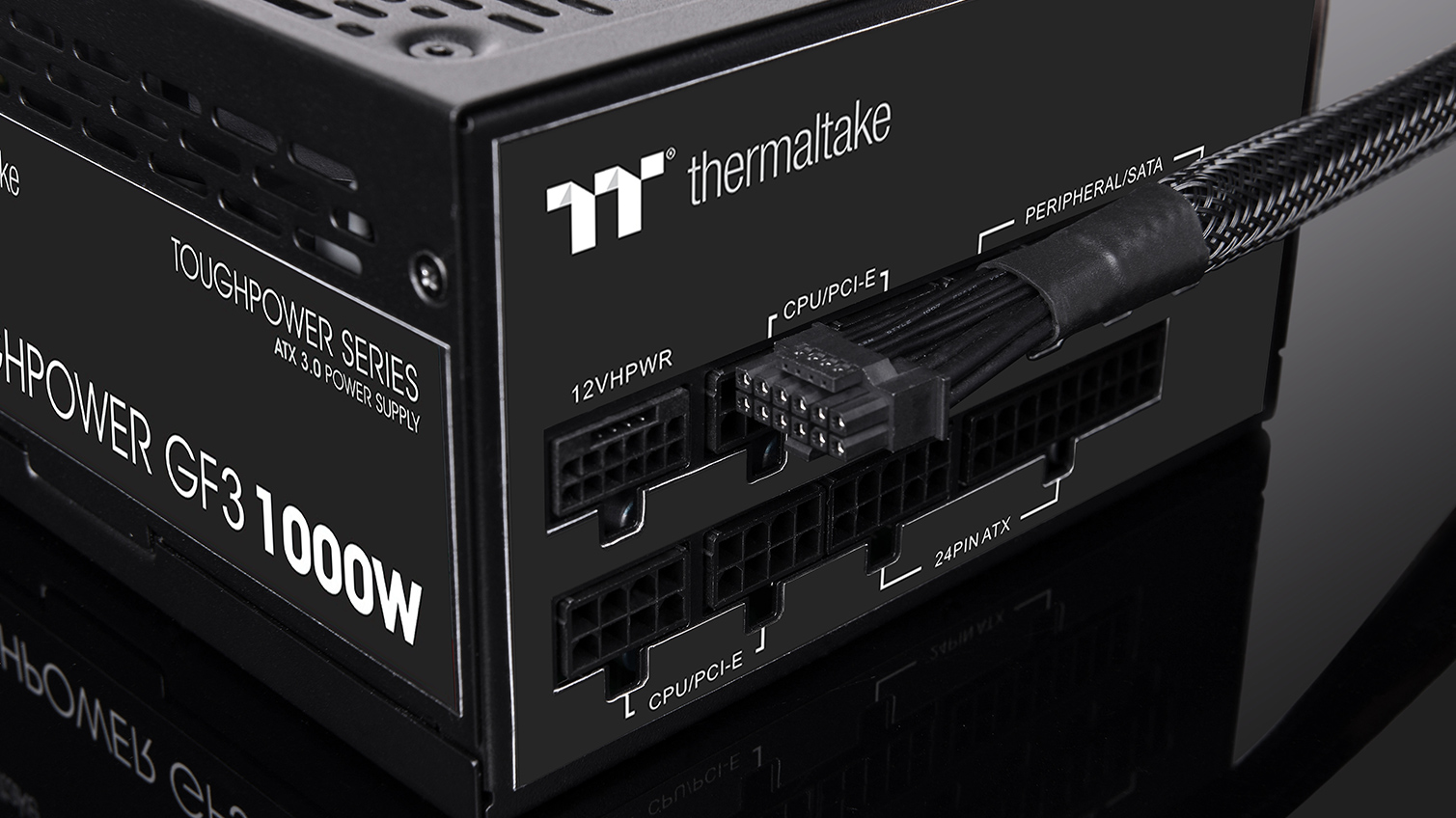 Toughpower GF3 1000W Gold – TT Premium Edition
PCIe Gen 5.0 Ready! Designed with a native PCIe 12+4pin modular connector, the Toughpower GF3 series is built for the next-gen PCIe 5.0 graphics cards and is compatible with Intel ATX 3.0 specifications. The fully modular Toughpower GF3 series comes in 1650W, 1350W, 1200W, 1000W, 850W and 750W and is built to deliver 80 PLUS Gold efficiency. Aimed at providing the best performance, the Toughpower GF3 1000W includes all the critical features such as < 30mV low ripple noise design, extremely strict voltage regulation < ±2%, Hold up time> 17 milliseconds, and comes with 100% high quality Japanese capacitors and other premium components to help deliver continuous and stable power.
Fully Compatible With Intel PSDG ATX 3.0 Specifications
Toughpower GF3 series is fully compatible with Intel ATX 3.0 Specifications which supports up to 200% power excursion, reaches 70% low load efficiency and complies with required power supply timing standards. The GF3 series can sustain up to 3x GPU power excursion and 2x total power excursion.
Made to Comply with the Latest Graphics Cards
As the power consumption of graphics cards has increased, so has their demand for power. The GF3 series is designed to support NVIDIA and AMD graphics cards, ready to supply the graphics card according to their different ways of connections.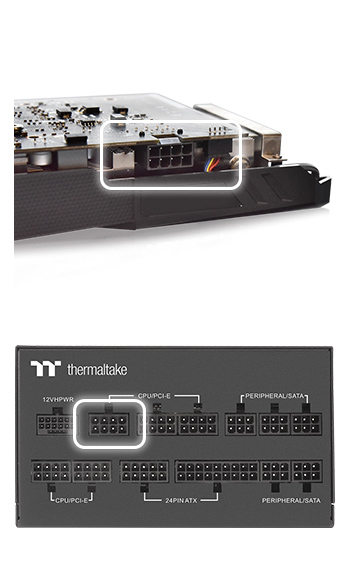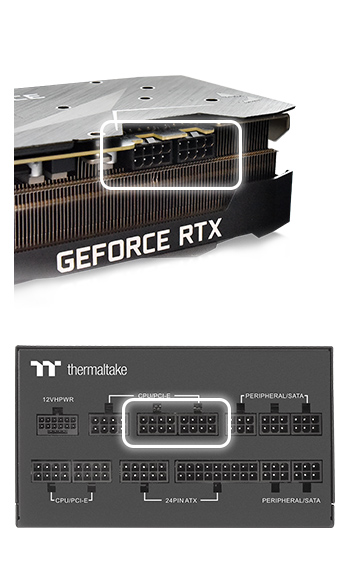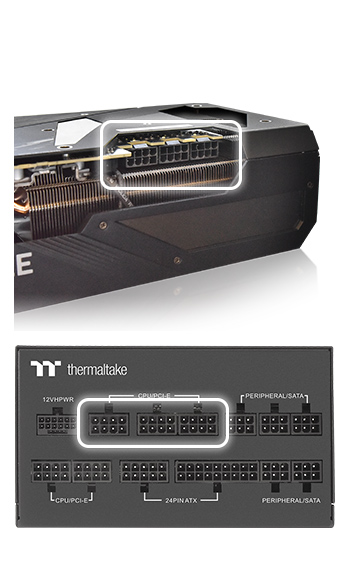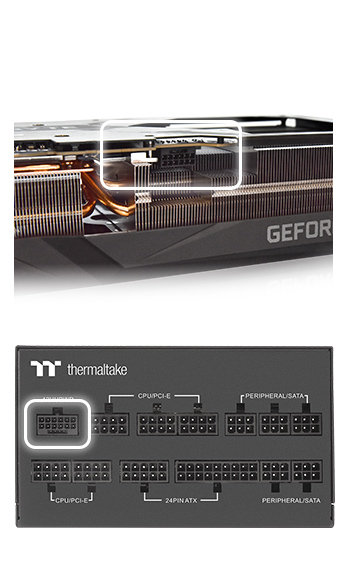 Toughpower GF3 1000W Gold comes with a 16pin connector to offer powerful and stable performance allowing the PSU to run next-generation GPUs naturally.

Please follow the recommended power requirements from the GPU manufactures before using the 12VHPWR cable.
Ultra Quiet Smart Zero Fan
Designed with our Smart Zero Fan, the fan will not spin until the load exceeds 30% of the power supply, minimizing the fan noise.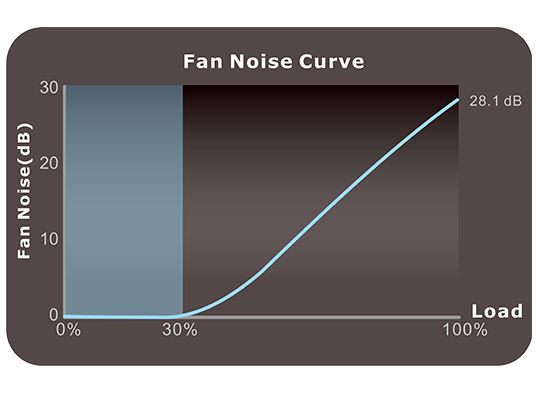 <30mV Low Ripple Noise Design
Top-end build quality with low ripple noise. All ripples are lower than 30mV on +12V, +5V or +3.3V from 0% to 100% load to ensure a stable operation and keep your performance-critical components to function reliably for longer.
Intel SpecificationTOUGHPOWER GF3 Series
Extremely Strict Voltage Regulation <±2%
The voltage regulation, more strict than Intel's standard +5%,-7% for major rails and ±10% for -12V, is set to no more than ±2% for major rails, providing steady clean power through exceptional voltage stability.
Intel SpecificationTOUGHPOWER GF3 Series
Fully Modular Low-Profile Flat Cable
Offers cable selection for users while powering the system at an advantageous voltage. Low-profile flat black cable makes cable management easier, reduces clutter and increases airflow inside the chassis.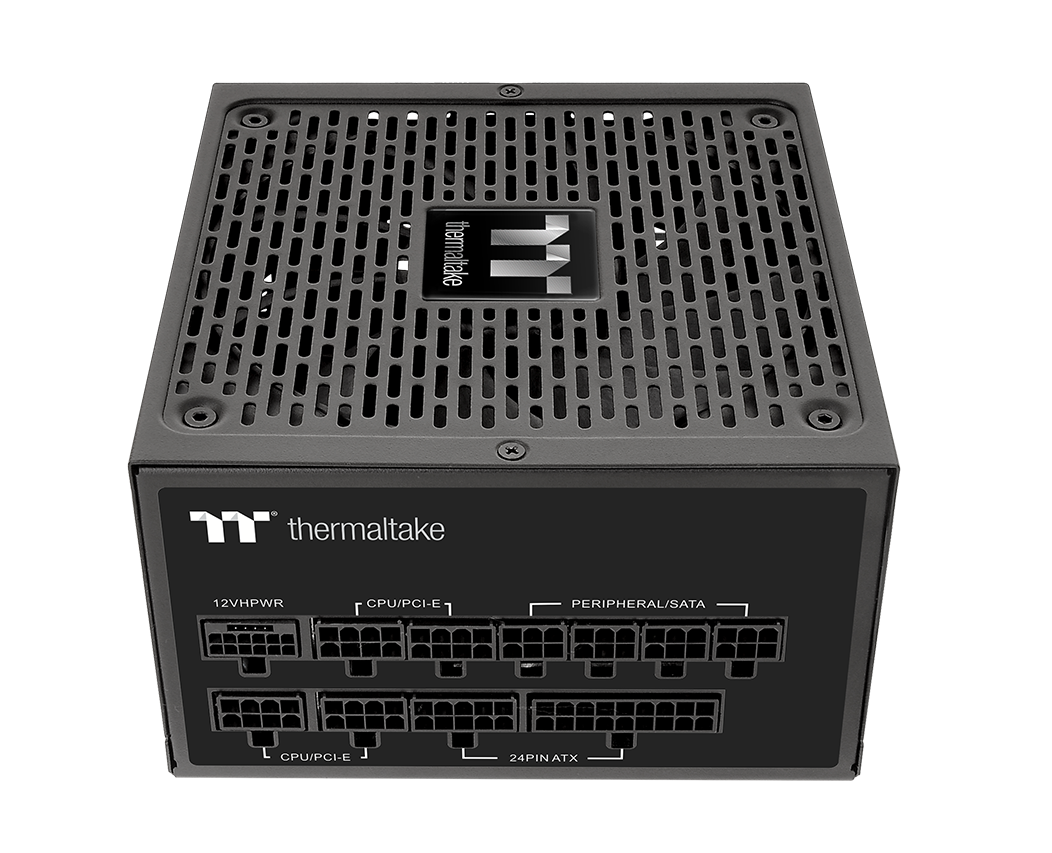 Wattage
Connector Type
Connector Quantity
per cable
Cable Quantity
Cable Length
Toughpower GF3 1000W
Main Power
(24Pin)
1
1
600mm
ATX 12V
(8Pin)
1
1
700mm
ATX 12V
(4+4Pin)
1
1
700mm
PCIe
(6+2Pin)
2
2
500mm + 150mm
PCIe
(12+4Pin)
1
1
500mm
SATA
4
3
500mm + 150mm + 150mm + 150mm
Peripheral
4
1
500mm + 150mm + 150mm + 150mm
Floppy
Adapter
1
1
100mm
100% High Quality Japanese 105°C/221°F Capacitors
Providing great durability as well as offering the highest stability, while remaining reliable.
High Amperage Single +12V Rail & High-Class Technologies
Powerful single +12V rail can properly deliver the power you need for the best compatibility. The use of LLC and DC to DC circuit design provides very stable operation and enhanced voltage regulation.
AC INPUT

Input Voltage: 100V-240V~
Input Current: 13.0A / 6.5A
Frequency: 50-60Hz

DC OUTPUT
+3.3V
+5V
+12V
-12V
+5Vsb
Max Output Current
22A
22A
83.5A
0.3A
3.0A
Max Output Power
120W
999.6W
3.6W
15W
Total Power
1000W
135mm Fluid Dynamic Bearing fan
Featuring a 135mm fluid bearing fan to guarantee superior cooling performance.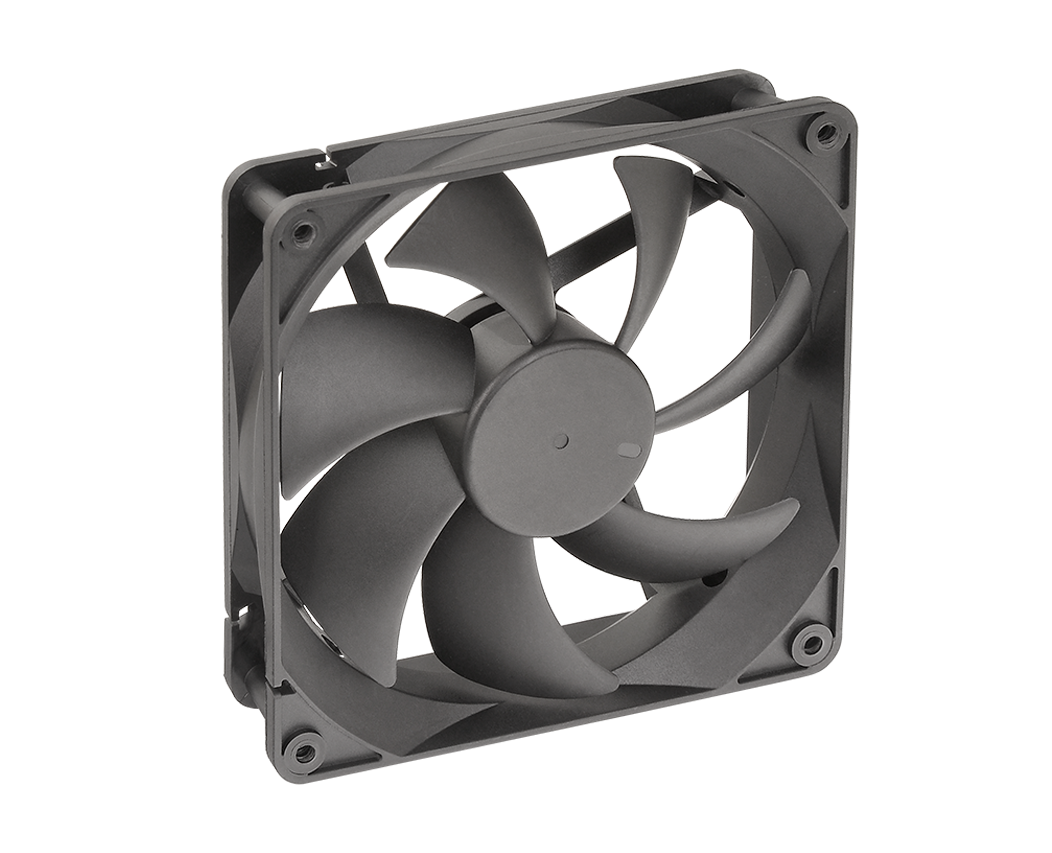 80 PLUS Gold Certified and Intel C6/C7 States Ready
Tough power GF3 series saves energy through its high energy efficiency up to 90% and is certified to 80 PLUS® Gold. The series has been optimized to work with all generations of Intel's processors to achieve maximum energy saving.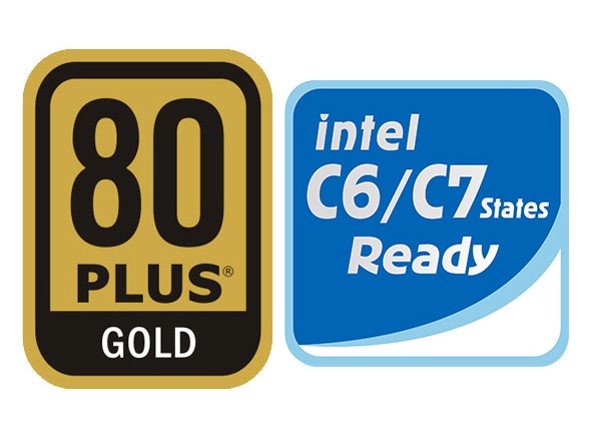 CYBENETICS – EFFICIENCY LEVEL CERTIFICATION – GOLD
Toughpower GF3 1000W Gold is certified to CYBENETICS GOLD in 115V and 230V input in terms of efficiency level. The overall efficiency rating is defined as ≥87% to <89% of 115V input and 230V input. There are six ETA certifications, covering an efficiency range from 82%. Besides the overall efficiency of a PSU, ETA also takes into account its overall Power Factor readings along with the efficiency of the 5VSB rail and the power that the unit consumes in standby (also called phantom power).
CYBENETICS – NOISE LEVEL CERTIFICATION – STANDARD+
Toughpower GF3 1000W is certified to CYBENETICS STANDARD+ in terms of the noise level. There are seven noise level certifications, covering from dead silent PSUs (<15db[A]) to quiet noisy ones(>40 db[A]). We use a solid methodology and states of the art equipment to measure the noise that a PSU outputs throughout its entire operation range, from almost zero noise output to full load.